Congratulations to Asygrn on becoming our 3rd Shadowlands Green Man Challenge champion! Asygrn's Green Man journey took 8 days, 17 hours, and 37 minutes with a /played time of 1 day and 22 hours to complete.
This is Asy's 1st Green Man challenger of Shadowlands to reach max level and his 2nd champion over all this expansion. His first was an Iron named Asyy.
Asy chose to play the Green Man Challenge this time out because he wants to have a max level champion for each of the challenges.
Asygrn was created as a Human Beast Master Hunter. Asy tells us he went with a Beast Master Hunter because it is a class/spec combo he is very comfortable with.
Asygrn's leveling path was pretty similar to the path Asy took with his Iron Man. "Although as a green, Hunter is very op and I could basically quest normally in Shadowlands so you can see further into some of the quest lines."
Did Asy have any close calls while leveling Asygrn? "Not really. A few moments when you pull extra or are taking on a main mob."
Asy has the following advice for others thinking of trying out the Green Man Challenge: "It is more like a normal character but there is a constant chance of equipping blue items."
What's next for Asy? Will he be taking a break or does he have other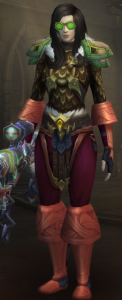 challengers he's working on?  Well, Asy tells us he's currently working on a Pacifist that is 52, a Blood Thirsty that is 47, a Working Man that is 24, and an Iron that is at 30.
We would like to wish you the best of luck with your other challengers in progress Asy and congratulations once again on Asygrn becoming our 3rd Shadowlands Green Man Challenge champion!