Congratulations to Dragoniron for reaching max level, making him our 12th Dragonflight Iron Man Challenge Champion.  Dragoniron's Iron Man journey took 46 days, 21 hrs, 0 min, 50 sec.
Ironbrue gives us a breakdown of his journey with Dragoniron. "I started Dragonflight with my Level 60 Iron Man character and was doing well until Level 67. For some reason, I thought I could do the Hemet Nessingwary series of quests (he drives a wagon around about Camp Antonidas). First ones were ok, then I got to Old Stonetusk (mammoth not far from the camp). Got there and someone else was already burning him down, so I sent in the pets, and after a few bites fired an arrow from range. Old Stonetusk immediately left what he was doing with the other guy (another Hunter), his pets, and my pets, and thundered straight to me where he one-shot me. My advice – leave Old Stonetusk to graze in peace – he can't be trusted.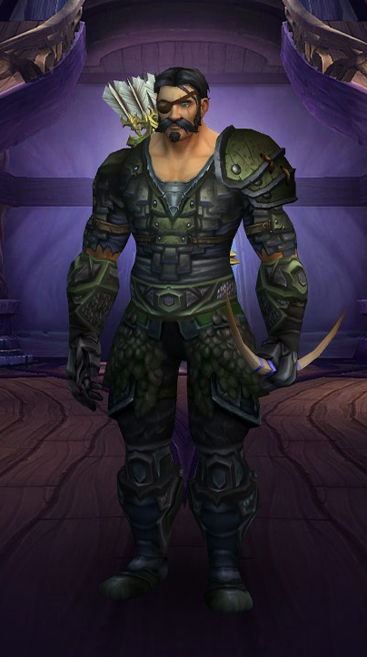 Started again and headed off into Dragon Isles to pick up flight paths etc with a newly dinged Level 60 (handily you keep all your dragon riding skills and mounts from your main). I mounted up and headed off the cliff at Three Falls Lookout. Unfortunately I somehow double-clicked the mount, so took off and dismounted over the cliff edge. I had a bunch of Goblin Gliders in my bag, as always, just in case… but this time, I unfortunately had the map open which obscured my Goblin Glider button. Splat!
Started again. This time got to Level 68. I had been enjoying the Fishing Frenzy quests – nice and safe and easy exp. I had avoided the lava version as I had noticed on my main that giant frogs could spawn right under you and chuck you in the lava pretty quickly. I figured that my armour would not be good for lava swimming, so I steered clear. Then I tried the ice one (crabs). Accidentally aggro'ed two crabs while I was pulling another one up with the harpoon. They ate my health in a few seconds and I was crab food. Started again with Dragoniron and as you can see, I was more careful and made it – although there were still a few close calls especially on quest chains that ended with a tough guy to kill. Also collecting webs was tricky too as the spiders ate away pet health incredibly quickly with their poison debuff." 
Ironbrue also states, "I actually found most 'normal' quests were reasonable (and of course I now had a Level 60, a Level 67 and a Level 67 to practise on)! But you have to be realistic, some quests require killing in mob saturated areas… not worth the risk. And of course, there are plenty of reasonably safe world quests – the 'Fishing Frenzy' I have mentioned, but also the Dragonriding Races (I assume if you are careless you could get dismounted by skimming too close to a bad mob, but it never happened to me).
The way the game works these days, it is a fairly fast romp to Level 60, at which point you head to Dragon Isles. Pretty much all I did was head to Loch Modan as soon as I could (Level 5 or so I think) and kill rares (there are 13 that respawn every 40 mins or so). In between, I also killed lots of crocs and buzzards, mainly for the eggs (small egg) which sell well, but they are also good for drops of grey gear, which, if not needed, also now sell well. At Level 59, you can collect your 180 item level set plus a 160 weapon here. A 160 cloak can drop here too, but fairly rare – you can buy a 160 item level cloak in Tiragarde Sound in Boralus (vendor up on the scaffolding past the two ships). The change to allow grey and white gear to transmog was a two-edged sword. There are always plenty of items in the AH that you might need, but the prices tend to be higher as there is more demand. But of course, you can sell the pieces that drop for you at higher prices too – so swings and roundabouts. As a flyer, you can also take a turn around Uldum/Ungoro/Tanaris for chests that always contain a blue (some sell well – Orb of Deception for instance) and give good exp too.
Don't forget at Level 10 to choose an expansion with Chromie. I always pick Lich King for some reason… if not the mobs will stop matching your level and cap at Level 30 (Level 35 in Uldum). After Level 30, I added in the rares over the ravine in Badlands. By the time you have run round Loch Modan and Badlands, they are spawning again where you started. Tedious I know, but safe-ish and no real need to stray too far away. You do need to be on the ball with pet heals… if the rare gets lucky with a few crits, they can eat your pets health away. Still, freeze trap and res pet usually works fine."
Congratulations once again to Ironbrue on Dragoniron becoming our 12th Dragonflight Iron Man Champion, and best of luck with your future Challenge adventures.