Congratulations to Elfster on reaching max level and becoming our 22nd Shadowlands Iron Man Challenge champion!
Ster decided to run a brand-new toon this past month to see how long a level 1 Alliance rogue would take to get to 60. Turns out, 21 days! And Xaya just did the same thing. Total played time was about 4 days.
Want to get an Alliance toon to 60 in Shadowlands?!?! You can do it too. Ster has created a leveling guide for you. Simply visit the WowChallenges forum and look for this topic: Leveling Guide For An Alliance Toon in Shadowlands…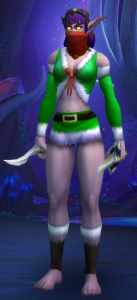 Ster has used this leveling path successfully for a number of Alliance classes, including Rogue, Druid, Priest, Mage, and Hunter. Obviously, you will need to adjust your technique based on the abilities of your toon. Rogue and Druid have a distinct advantage with stealth. Ster also leveled a Horde Troll Rogue, with the difference being the starting zone.
Post your experience and progress on the WoW Challenges Discord, we want to hear from you! Discord: Discord.WoWChallenges.com – Join our community!