Congratulations to Ferreilean on becoming our 7th Dragonflight Pacifist Challenge Champion! Ferreilean's Pacifist journey took 3655 days, 16 hrs, 56 min, 20 sec with a /played time of 19d 16h 43m to complete.
This is Ferre's 2nd Pacifist Champion and her 4th Challenge Champion overall for Dragonflight. Her other 3 Champions are: Ferrekessaa, a Pacifist; Ferrelin and Ferrestealth are Working Man.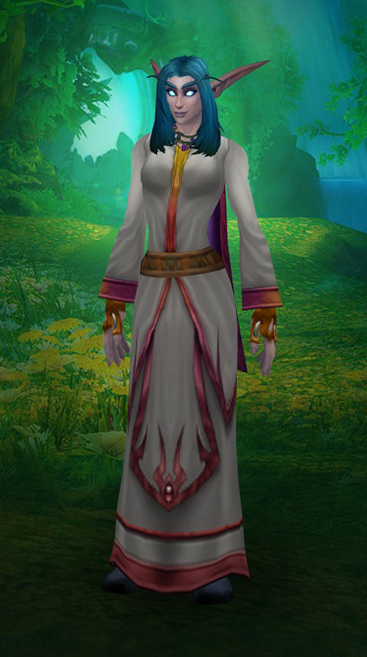 Ferre says, "This was my very first pacifist. She is almost exactly 10 years old, having started in early March during MoP. At that time, we were still learning about what Blizz counted as killing blows, etc – particularly the games at the DMF such as Whack-A-Gnoll. She never had any kills, but one proximity kill would end her run so she was particularly slow and cautious about when and where she played."
What class/spec did you choose to go with and were there any specific reasons for that choice? "Ferreilean is a Night Elf Resto Druid. Since this was my first Pacifist, my thought was that Druid bird form would be a major advantage for herbing. And having prowl is definitely a help in doing archeology."
What path did you take to level and were there specific reasons for those choices? Ferre says, "Up to Lvl 85 or so, she leveled by gathering, exploration, treasure hunting and non-violent quests (including holidays and DMF). After that, she did mainly Archaeology up to Lvl 120. In the SL expansion, she was prepared to continue doing Archeology since initially Pacifists couldn't get to SL due to the Maw. When full experience was restored for daily cook/fish quests and holidays, she used those. When the Maw skip and Threads of Fate became available, she still waited a long time to go there because of the fear of prox kills. In Dragonflight, she did not go to the Dragon Isles. The prox kill danger is just way too high for my comfort level, especially on this character. She did cooking/fishing, DMF, holidays, and some archeology (especially to get the Fossil fragments for the DMF profession quest)."
Did Ferre have any close calls while leveling Ferreilean? "No, just had to be careful of the T-Rex's in UnGoro where she often went to dig up fossil fragments. And a lot of being really careful about avoiding the occasion for any proximity kills."
Ferre has the following advice for others trying out the Pacifist Challenge: "I don't necessarily recommend her leveling strategy; her situation was unusual. Typically I do more of a mixture of the things she did plus some WQ's in SL and some gathering there. I don't have significant experience in Dragon Isles on Pacifists, so I can't really comment about that. I'd say as a general recommendation – play at odd times and unpopulated places to avoid the prox kill issues. When another player shows up, I just leave. And be wary when you click on what looks like an herb – it might be a critter!
What's next for Ferre? Will she be taking a break or moving on to another challenger? "Ongoing Pacifists (including my 'Vegan' Pacifist who is not doing any cooking/fishing), Irons, Working Mans and Greenmans."
Good luck with your other challengers Ferre, and congratulations once again on Ferreilean becoming our 7th Pacifist Challenge Champion of Dragonflight.