Congratulations to Ferrekyyri on becoming our 40th Iron Man Challenge champion! Ferrekyyri's Iron Man journey took 1,924 days, 23 hours with a /played time of 9 days, and 12 hours to complete.
Ferrekyyri is Ferre's 3rd Iron Man champion and her 13th champion so far for this expansion.
Ferre chose to play the Iron Man Challenge this time out because "…wanted an Iron Man Druid during Legion as a backup to my long-time (MoP) Iron Druid Ferriona, in case something happened to her along the way."
Ferrekyyri was created as a Night Elf Druid. "She started off in Balance spec, keeping this until changes in skills and mobs made switching to resto safer and more comfortable, using rooting and shooting with Rejuvenation as a HOT rather than relying on a long cast-time heal."
When we asked Ferre how she went about leveling Ferrekyyri, she told us: "It's been a while since she did early leveling, but she did questing in Azeroth (mostly Kalimdor + Loch Modan), Northrend, and MoP. She did a lot of dailies in MoP along with treasure hunting in Northrend (and some in Draenor)."
"In SL, she did Threads of Fate as Night Fae, focusing on WQs, holidays, and a few non-violent quests."
Did Ferre have any close calls while leveling Ferrekyyri? "I'm sure she had to make use of Shadowmeld a few times when she was getting close to the point where she switched spec to resto. And when she tried a quest in BfA (the stoats), she got an add and ended up melding out of the fight, not going back there except for a few chests. She also had a disconnect while flying over Ardenweald. That worried me, but when I got back into the game, she had landed safely."
Ferre has the following advice for others trying out the Iron Man Challenge: "Up to level 50, quest wherever you enjoy the experience. Make use of daily quests and treasure hunting as kill quests become less doable (depends on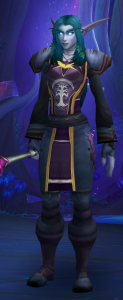 your class and spec). Exploration, even in areas where you don't quest, can be great exp. Legion is a great example of that – just fly over it carefully and watch out for the PvP areas."
What's next for Ferre? Time for a break or will she be off to work on the next challenger waiting in the wings? Well, Ferre has told us that she'll be working through a backlog of Working Man and Green Man challengers that had to be put on hold while those trackers were down. Plus, you never know what other Pacifist or Iron challengers she may have quietly leveling away.
Congratulations again on Ferrekyyri becoming our 40th Shadowlands Iron Man champion and good luck with your other challengers!