Congratulations to Ferrerona on becoming our first Working Man challenger to reach level 60 in Shadowlands. This character's total /played time comes in at 8 days, 22 hours, and 30 minutes. Having previously made it to level 120, however, her /played time in Shadowlands was a total of 1 day and 19 hours.
Ferrerona is Ferre's second challenger to reach max level so far in Shadowlands. This character was created during our Working Man contest and is one of her 9 challengers who previously reached 120 during Battle for Azeroth.
Why did Ferre choose the Working Man challenge for Ferrerona? "She (was) started during the Workingman Contest. I'd lost a level 110 Druid Working Man by dinging 110 in Darkshore and instantly killed, and I'd really enjoyed the challenge format so I wanted to try another. I really enjoy the options available – to choose your combination of ironman questing (with kills) and gathering/archeology."
What path did Ferre take with Ferrerona to reach level 60? "Since she was 120 pre-Shadowlands, her path then had been mostly questing at lower levels and mainly archeology from 100-120. In this expansion, I chose to delay going through the Maw until she was 57 (timing related to when I'd gotten comfortable taking a rogue scout to Bastion safely.)  Up till then, she did a combination of BFA exploration/chests and archeology. Once in Bastion, she did some of the early quests but mainly concentrated on exploration and gathering."
Did Ferre have any close calls while leveling Ferrerona this time out? "No, not really. It's always tense going through the Maw, but I'd scouted it successfully and she over-leveled the mobs there (since mobs in the Maw don't scale)."
Ferre has the following advice for others wanting to try out the Working Man Challenge: "Play to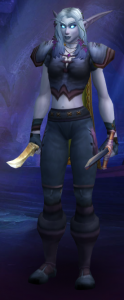 your strengths as a class at various levels. When killing started to get slow, doing more gathering and archeology was available to keep progressing at a good rate. I've only been in Bastion so far, but have not seen any issues with herb or ore nodes spawning anything unpleasant."
What's next for Ferre? "I'm actively leveling a pre-50 pacifist and just starting to level another level 50 Working Man (Druid).  Also, I'm still scouting Bastion stuff on various classes in the Iron Man and Green Man challenges. (I do not have a max level regular at this point, so I'm also working on that.)"
Good luck with your other challengers Ferre and congratulations once again on becoming our first Shadowlands Working Man Challenge champion with Ferrerona!