Congratulations to Ferrewynter on becoming our 3rd Working Man Champion of Battle for Azeroth! This character was started about halfway through the Winter's Veil Helpers Working Man contest, right after Ferre lost her noncontest Working Man challenger after dinging 110 in Darkshore. It took Ferre 111 days with a /played time of 12 days to reach max level.
Ferre started off her journey like she would with a typical Iron Man challenger in Teldrassil but learned her professions as soon as possible. Ferre said, "Since DMF had just ended right before she began, she fished in Boralus Harbor to raise a little cash for buying the other professions, bags, etc. Once available at level 10, she did the cook/fish dailies every day, generally in Darnassus, but other than that she was a fairly opportunistic gatherer til level 58 (druid flight) – if she saw ore or herbs while questing, she grabbed them. Just made sure to get all professions up to 75 before the next DMF. A nice bonus was the WoW Anniversary event – the trivia quest experience was great."
Ferrewynter is a Night Elf Druid, so Ferre started out as Balance and then switched over to Resto around level 20. "Resto druid is pretty strong – root and shoot while using Rejuvenation (heal over time) as needed. Didn't have any issues with mobs showing resistance to re-rooting, so it was just part of the rotation to keep them rooted while using damage spells. But she avoided casters and ranged attackers wherever possible since rooting is useless against them. Picked out the melee mobs from mixed group quests, and definitely avoided named/rare casters."
On her leveling journey, Ferre tried to get as much out of Pandaria as possible. "Did plenty of mining in Pandaria – love that ghost iron in the Valley of Four Winds. I really liked Pandaria in general – she could do many more Anglers and Tillers dailies than a pacifist, and being able to open up the Cloud Serpent quests, including the associated profession dailies, gave a lot of good experience."
As for Archeology Ferre held off on digging around in the dirt for quite some time.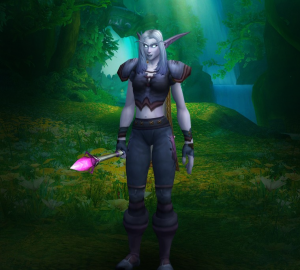 "Waited until after 90 to do much archeology – there was just plenty to do before then, and archeology goes a lot faster when you don't aggro the mobs."
Once again, congratulations Ferre on getting Ferrewynter to max level and becoming our 3rd Working Man Challenge Champion during Battle for Azeroth.