Congratulations to Gentlesoul on reaching max level and becoming our 14th Battle for Azeroth Pacifist Challenge champion! Nisey had a /played time of 14 days and 2 hours and a Real World Time of 1294 days to ding 120.
Gentlesoul is Nisey's first Pacifist and fifth overall challenger to reach max level this expansion. She has reached 120 with four other Blood Thirstys.
Nisey says playing a Pacifist started out as "a bit of a joke. The blood thirsty queen playing a pacifist. I really wasn't expecting to get that far. I figured I'd mess up and kill something accidentally out of habit. As time went on and the character remained green flagged I started to take it a bit more seriously and more determined to see it through."
Nisey's says trying to remember her leveling path is tough as the "character has been around so long and I'm running so many it is a bit hard to remember. When I started out, you could get your gathering professions right away at level one. So I sold my starter gear and picked up herbing first. Once I got enough money vendoring herbs, I bought my starter gear back and elected to leave it on for the duration to remind myself this was my pacifist and not to kill anything. I do remember taking advantage of some of the world holiday events where I could. I did a lot of mining and flowering picking as well. Along with an unhealthy amount of archeology. Gentlesoul will probably never get all the dirt out from under her fingernails. Since I was running a priest my options felt a bit more limited the higher I got. I know some pacifists that have stealth, that can gather while in flight form, or that have an instant out of combat card will go treasure hunting, herbing, and mining in some of the more recent expansions. I did not have those options on a gnome priest so I stuck it out with archeology being my primary source of xp along with fishing and cooking dailies from about level 95 and up. Hitting darkmoon faire and holidays where I could. While I do have a sky golem and probably could have done some herbing in legion or BfA I was too afraid I'd get aggro out there and not be able to get away safely."
Nisey says she had two close calls. "One came while I was attempting a dig site in Mt. Hyjal. I was surveying in a spot with no hostiles just a friendly npc when suddenly two hostiles spawned in and came running in my direction. I screamed and started to run but the hostiles were still behind me so I ran to the side to get away and realized they had not actually aggroed on me yet but were running for the friendly npc I was standing in front of. I suppose it was a scripted event but scared the crap out of me because that could have ended very badly. The second one happened again while I was attempting to do a survey in a dig site in feralas this time. I had been dancing around a harpy and finally thought I could do my survey and the harpy had other ideas and came right at me and aggroed. Fortunately, I was able to run far enough to get that mob to leash. Even though both incidents had a happy ending, they were too close for comfort for my priest."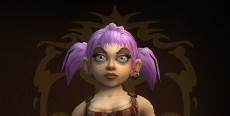 Nisey's best advice to anyone wanting to try a Pacifist is "Test out anything you are unsure of with a scout. Just because a quest seems straight forward, you never know if it will count as a kill. Take advantage of the knowledge of others that have gone before you. Their experiences could save you some heartache."
So what's next for Nisey? "I am actually taking a break for a while. I'll be back to working on my challengers after Shadowlands drops and I find my footing."
We hope you have a lovely break Nisey and look forward to seeing what challenge adventures Shadowlands brings. Once again congratulations on reaching max level with Gentlesoul and becoming our 14th Battle for Azeroth Pacifist Challenge champion!