Congratulation to Jangreen on becoming our 3rd Battle for Azeroth Green Man Champion. Janglur reached level 120 on Jangreen with a /played time of 5 days and 17 hours.
According to Janglur, the hardest part about playing the Green Man Challenge was making sure he did not get complacent and sloppy. The best part of playing the Green Man Challenge on a hunter for him was that he could do just about any quest that he wanted.
One of his biggest scares with Jangreen came in Stormsong Valley. He had a close encounter with a level 122 mechanical elite near Fort Daelin. Talk about your heartstopping moments. Fantastic job coming out of that on the living side of things!
When we asked Janglur if he had any advice for others attempting the Green Man Challenge he had this to say, "After a couple of years of playing irons, everything seemed easy on the Green Man. You can't let that lure you into letting your guard down. Also, respawns and pats, respawns and pats – always be alert for them."
Having now reached the max level in the Green Man Challenge, we asked Janglur if he felt that this challenge was a good way for new challengers to ease into the Iron Man Challenge. He responded with "Absolutely. A little more relaxed as you learn to play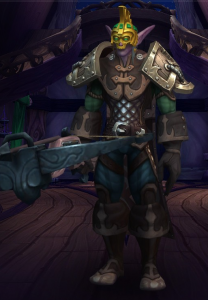 solo and not die."
What's next for Janglur, you may be thinking, another Green Man? No, not right now. He's headed back to the Iron Man Challenge. His prior Iron Man attempt saw him reach level 113 before coming to an unfortunate end and feels it is time to give that one a try once again.
Congratulation once again to Janglur on reaching level 120 with Jangreen and becoming our 3rd Green Man Champion during Battle for Azeroth. Best of luck with your new Iron challenger!