Congratulations to Jem on becoming our 18th Shadowlands Blood Thirst Challenge champion! Jem's Blood Thirsty journey took 9 days, 3 hours, and 37 minutes with a /played time of 2 days and 34 minutes to complete.
Jem, a Night Elf Beast Master Hunter, is Ironbru's second Blood Thirsty champion of Shadowlands.
Ironbru supplied us with the following information about Jem's Blood Thirsty journey: "With the huge change in UI etc a couple of weeks ago, I fancied a new challenge, and the just dinged Blood Thirsty Champion, Jem (Night Elf Hunter), was it."
"After having done many Iron Men (two classes still to finish), a Blood Thirsty, and a Pacifist, I thought I would try to do Blood Thirsty and Iron Man on one char…I could only register for one, so registered Bloodthirsty."
"So I completed it with only grey and/or white gear. At later stages, there was a bit of a bonus there because since last week there are 180 item level grey armor and 160 item level weapons. I managed to find all but the boots on the AH….a bit pricey sometimes, but reasonable."
"I noticed that you now allow talents. Well, I wanted the challenge, so did not take any talents either. I can see on my already L60 Iron Men there would not be a choice because older L60 characters log in with the standard set of talents already picked. Jem leveled from 0 – 60 and I found it did not auto-pick talents when I hit 60….so he is still talentless."
"With no talents on a BM Hunter all you have is Steady Shot, Arcane Shot, and Kill Command…everything else is now a talent… (I chose Beast Master because as usual, I like to tame the classic spirit beasts (Loque, Gondria, Arcturus, etc). Bonus there – you can tame them at L20!"
"Since the expansion last week another bonus is Chromie Time goes all the way up to L60…so Eastern Kingdoms and Kalimdor scale right through."
"I did my usual run, mainly fighting in Loch Modan for the rares…they got a bit tough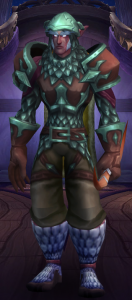 to kill with any degree of safety in the late 40s…but there are also the loch buzzards (small eggs drop and sell fairly well (down to 5g each on my server, but that still adds up)."
"Around this point, I also decided my pet was not up to the job (cat or spirit beast, I tried both) they kept dying so I opted for a core hound…rather nice rare one in Blasted Lands. He fared much better at handling damage spikes."
Sounds like Jem had quite the journey! Good luck with your other challengers Ironbru and congratulations on Jem becoming our 18th Shadowlands Blood Thirsty champion!