Congratulations to Pallyster on reaching max level and becoming our 27th Shadowlands Iron Man Challenge champion! Pallyster's journey took just over 30 days with a /played time of 4 days and 5 hours.
Pallyster is Ster's 12th max level Iron so far this expansion. His other max level Iron challengers are 4 rogues, 2 druids, and one each of monk, hunter, priest, mage, shaman, and now this paladin. Additionally, Ster also has a max level Pacifist and Working Man. 
Ster has the following suggestions for those trying out the Iron Man Challenge: "If you want to get a new Iron to level 60, pick a toon that can escape combat if things go bad. Night Elves get ShadowMeld. Hunters get Feign Death, Rogues get Vanish. Having that escape can mean the difference between trying again or re-rolling a new toon. At least this pally had the famous "bubble-hearth", though I never actually used it. I simply played conservatively. If you want to view a write-up about leveling a toon in Shadowlands, check out this forum post: Leveling Guide For An Alliance Toon in Shadowlands…"
"I have used this leveling path successfully for a number of Alliance classes, including Rogue, Druid, Priest, Mage, Hunter, Shaman, and now a Paladin. Obviously, you will need to adjust your technique based on the abilities of your toon. Rogue and Druid have a distinct advantage with stealth. I also leveled a Horde Troll Rogue, with the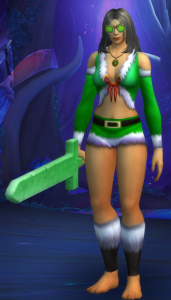 difference being the starting zone."
What's next for Ster? Will he be taking a break or diving back in on another challenger? It would seem Ster is on a mission to get one of every class to max level as an Iron. Ster says he still needs a Warlock and Warrior for the non-hero classes which are next on his list to work on. If he's successful with those two classes he'll tie Neverdied's record of one max level Iron of every non-hero class. In order to break it, Ster will need to add in a Death Knight and Demon Hunter.
We wish you the best of luck with your other challengers Ster and congratulations once again on becoming our 27th Shadowlands Iron Man champion with Pallyster!