Congratulations to Priester for reaching max level, making her our 15th Dragonflight Iron Man Challenge Champion. This is Ster's eighth max level champion, and the first Priest Iron Man for Dragonflight. A total of 8 days and 4 hours of /played, Priester was born back during the Shadowlands expansion 1,790 days ago.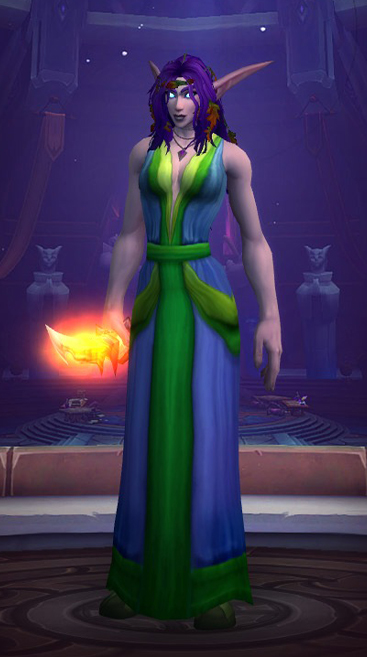 When asked about Priester's leveling journey, Ster commented, "Discipline Priest was quite the challenge to level in Dragonflight. With no stealth and only a single Shadow Meld to escape daily perils, the Priest has to be super careful about engaging with hostiles. The only crowd control for the Priest is Psychic Scream (essentially a fear), which can cause more issues than relief.  Nothing worse than the NPC running around and pulling in more mobs to the fight. But the good news is that the Priest, in a regular one-on-one fight, can generally prevail thanks to the large amount of heals and shields. Still, the fight can drag out, with the risk of other NPCs joining the fight. With that in mind, Priester usually only did pacifist-safe quests to avoid fights. Follow the forum post that is titled 'Paci-safe quests in Dragonflight' – these are generally safe for the other challenger classes like a priest. Also, loot the chests that spawn daily in BfA, which continue to provide decent XP.  And, look over the zones in Shadowlands daily – some of those quests that say 'Bonus Experience' – while not all are doable by a challenger, the ones you can do pay full XP – all the way up to level 70."  
Looking at the leaderboard for Irons, you can see that there is practically one of every class of Iron Man challenger for the Dragonflight expansion. What's the key to hitting max level on an Iron Man for this expansion? Ster says, "Patience! By the time you get to levels 68 or 69, the amount of safe XP quests thins out, and you're stuck waiting for bonus XP quests in Shadowlands, or doable world quests in Dragon Isles. Death comes easy to those who attempt risky Dragonflight quests for that little extra bit of XP" 
What's next for Ster? "Hmmm. Working on a Panda Pacifist. That's right, it has emerged that there is now a way for a Panda or Worgen to escape the starting zone Exile's Reach without killing any mobs! More to come on that technique."
Congratulations once again to Ster on Priester becoming our 15th Dragonflight Iron Man Champion, and best of luck with your future Challenge adventures.