Congratulations to Trollursoul on becoming our 15th Shadowlands Blood Thirsty Champion! Real world time stamp came in at 1785 days, 1 hours, 45 minutes, with the /played time being 7 days, 1 hours, 13 minutes.
Trollursoul is Nisey's 12th Shadowlands Blood Thirsty Champion as well as her 14th over all for this expansion. Her other two Challengers to reach max level are Pacifists.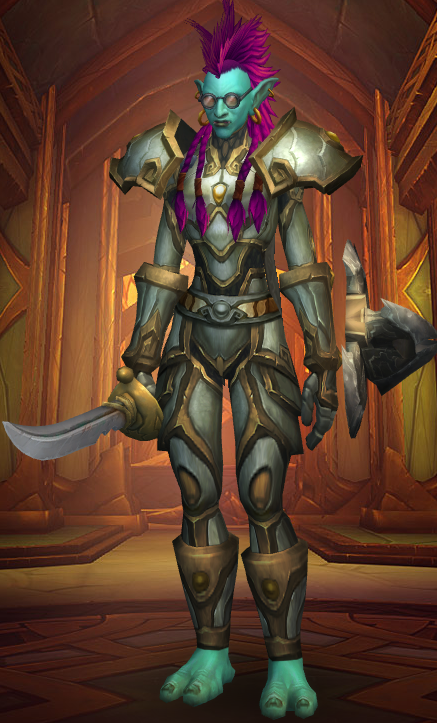 Nisey says she originally started off playing Irons and found she was getting too stressed over remembering what quests she could do successfully. She says "I got tired of quest picking what mob would end up doing my Challenges in.  I figured I'd rather pick the mob that might lead to my challengers' demise instead of a quest doing so and that was that really. It just became a way to zone out and grind without too much fuss."
Nisey chose a Troll Warrior for Trollursoul's journey and went with Protection spec. Nisey says "I got it in my head that I really wanted to get 1 of every class to max as a Blood Thirsty Challenger. The Warrior class didn't end up as my  last class to complete on purpose, just ended up that way as I had a few shall we say false starts and learning experiences with this class along the way. When a challenger would die, I would swap what faction that class was running as and try to pick a race I hadn't run with that class before. That's how Trollursoul ended up on the Horde side. I was stumbling so much with this class that it started to feel like the game was "trolling me" over it. So naturally, after I had that thought I had to go with Troll as her Race. Plus the 20% XP bonus when killing beasts would help reduce the amount of grinding I'd have to do. Lastly, she ended up as Protection because so far that was the spec I was having the most success with for that class."
What path did Nisey take to level Trollursoul? Nisey says "I actually don't remember very much about where I was leveling this one before the level squish came in. She's been kicking around for a fair bit of time. I do remember I was grinding turtle on the beach in The Hinterlands right before squish came in though. After the great squishening (a Nisey word – rhymes with quickening), I ended up taking her to Zuldazar and killed river beasts around the Tusk Pools until 50. At 50 it was off to Bastion, where she followed the same path the other challengers took out there."
Where there any close calls while leveling Trollursoul? Nisey says "Yes, actually I did have one that I can clearly remember. It happened maybe after being out in Bastion for a level or 2. I was fighting a moth and I had maybe two to three hits left before it died and all of a sudden I d/c'd. It was so late in the expansion that I knew if she had died there would have been no way I'd get her caught back up in time with how I play so I was a bit anxious to get loaded back in. Took a couple of tries but when I got in she was just standing there waiting on me. I guess she finished off the moth with auto attacks."
Nisey's advice for playing a Blood Thirsty "Pack your patients and be prepared to stumble. Re-rolling is part of it. Use those stumbles as lessons learned and put those lessons to good use on the next challenger. You are allowed and even encouraged to scout out areas/mobs you don't know. If you are stuck and don't know where to go, ask others on the forums or in the challenge discord. While your playstyle might not mesh with someone else's, it could spark an idea for a path that will work for you. Above all else, salty grumbles and playful ribbing aside, this is a game, have fun. If you are not having fun it's okay to walk away or find a different challenge that fits you better."
Nisey has one more Challenger to level for this expansion – a Working Man Challenger named Soulblister.
Congratulations again Nisey on becoming our 15th Shadowlands Blood Thirsty Champion with Trollursoul and best of luck with levelling your last Shadowlands Challenger.