Congratulations to Varson on becoming our 19th Battle for Azeroth Iron Man Challenge champion! Varson reached max level with a /played time of 3 days, 6 hours, and 58 minutes. This is also Ghalaw's first-ever max level challenger!
The leveling path that Ghalaw took with Varson is interesting. I had never thought about adding Nazmir into the mix. "Being an orc I started in Durotar, then went to Northern Barrens, Ashenvale, Stonetalon, and Desolace. It seemed like a fine route to take, did not have to skip many quests along the way, and after a couple of characters, it has just grown on me. After hitting level 60 I did Borean Tundra, Dragonblight, and some quests in Howling Fjord to hit 82. For the rest of the levels needed to get to Draenor, I decided to go Deepholm, and then to Uldum. From level 91 to 101 I did mostly treasure hunting, 1 or 2 bonus objectives, and a couple of quests. To hit 111 I did a few manageable assault quests, some bonus objectives, and quests mainly in Azsuna and Highmountain. Then came the real pain with BFA. I had a really hard time there. Not being able to access a lot the quests I was facing some serious challenges as I leveled my warrior to 115. Considering that the remaining quests were quite difficult to impossible to complete, I decided to get the rest of the experience needed by killing mobs, supplementing with the PvZ daily. Without much looking I picked a route in Nazmir along the river to kill packs of fishes which provided a solid amount of experience and did not pose a huge risk."
Did Ghalaw have any close calls while leveling Varson? It sounds like notes were made from previous attempts, which is always a great idea, so there were no new surprises this time through. "I lost a warrior at 111 not long ago, so I had a pretty clear idea about what I am going to face and what previously made mistakes I should avoid this time."
Ghalaw has the following advice for those wishing to try out the Iron Man Challenge: "My main advice would be to look at your deaths (which would very likely happen) as progress and not as a failure. The challenge is meant to be difficult and without continuously trying to improve it is not going to happen. Also, always keep in mind what you are capable of, know your limits. Get familiar with your class and its abilities and keep in mind that using items like goblin gliders, bandages, and some other engineering items are all options that could save your life from serious trouble. And last, always have an exit route in mind if things go sideways (and trust me, they will)."
Will Ghalaw be taking a break now after reaching max level with their Iron or is it time to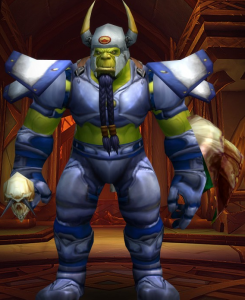 jump into a different challenge? "Currently I am happy to have my Iron man leveled up so I believe I am taking a break now. But I believe I might give a go to leveling an Alliance character in the future before Shadowlands, just to see another perspective which I have not seen before."
When you decide to jump back into the challenges be it on a Horde or Alliance character we would like to wish you a safe journey to max level. Until then enjoy your break you've more than earned it! Congratulations once again on reaching max level with Varson and becoming our 19th Battle for Azeroth Iron Man Challenge champion!