Congratulations to Xayaburdy on becoming our 9th Shadowlands Blood Thirsty Challenge champion! Xayaburdy's Blood Thirsty journey took 115 days with a /played time of 2 days and 10 hours to complete.
This is Xaya's 1st Blood Thirsty champion and his 11th Shadowlands champion overall. 
Xaya chose the Blood Thirsty Challenge this time out because he is trying to get a champion in every challenge.
Xaya used the following leveling path for Xayaburdy: "I used Chromie Time to 50, and spent most of the time killing rares in Loch Modan, then Swamp of Sorrows or Winterspring. Blizzard corrected the bug that mobs in those zones didn't count as kills with XP so didn't have to spend some time in Legion or BfA. Skipped the maw completely and headed to Bastion. When Blizz made the scouting maps available, I then went to Ardenweald at 56, and Revendreth at 58."
While leveling in Shadowlands, Xaya did encounter one close call with Xayaburdy. "While in Ardenweald, I was killing yellow moths in a place with many yellow stags. However, those stags will sometimes turn red and aggro if you fight nearby. At some point, I had more than 5 mobs against me so I used Feign Death."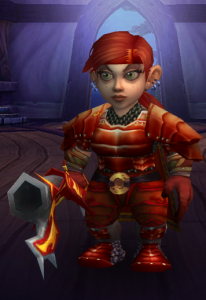 Xaya has the following advice for those trying out the Blood Thirsty Challenge: "There are some places in Legion, BfA, and Shadowlands that used to give daily quest completion credit. I strongly suggest avoiding areas with bonus objectives or world quests. Check your statistics from time to time, just to be sure you're still safe."
What's next for Xaya? Will he be taking a break or moving on to another challenger? "I still don't have a Shaman Iron, nor a Working Man. But until the site is fixed not sure what I'll do."
Well, the site is now back up and running so we wish you a safe journey with whatever project you decide to work on next. Congratulations once again on Xayaburdy reaching max level and becoming our 9th Shadowlands Blood Thirsty Challenge champion!