Congratulations to Xayagalian on becoming our 1st Shadowlands Green Man Challenge champion! Xayagalian's Green Man journey took 93 days with a /played time of 1 day, 17 hours, and 32 minutes to complete.
While this challenger is Xaya's 1st Green Man champion of this expansion, it is not his first to reach max level during Shadowlands. Xayagalian brings his total number of champions for Shadowlands to 13.
Xaya chose to play the Green Man Challenge this time out because the Green Man Challenge and the Working Man Challenge are the only challenges remaining that he did not have a champion for.
A Draenei Protection Paladin was chosen for Xayagalian because of their high survivability and Xaya wanted to maximize his chances of success.
Xaya used the following leveling strategy for Xayagalian: "A Green Man prot pally is one of the most powerful challenge class/spec; I used Chromie time and went to Northrend just after opening my garrison until I dinged 50, doing just about any quest except some named mobs. Things were about the same in SL, choose Threads of Fate and did many quests not doable by Iron Man challengers."
Did Xaya have any close calls while leveling Xayagalian? "Not really. Since I engaged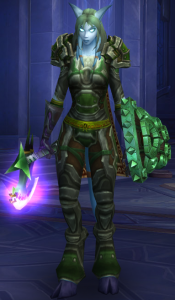 combat about the same way as a standard Iron Man (I do that even on regs), never had to use bubble hearth."
Xaya has the following advice for others trying out the Green Man Challenge: "Even if green gear makes a big difference, it doesn't make you invincible, When in doubt, scout it out!"
What's next for Xaya? Will he be taking a break or will he be starting another challenger leveling project? "I dinged my Working Man just after this toon. I decided to try a Pacifist with no stealth at all, and started a human mage Pacifist."
We'd like to wish you the best of luck with your new Pacifist and congratulations once again on Xayagalian becoming our 1st Shadowlands Green Man champion!