This week we announce the winners of our challenger fashion show contest.
Azeroth Designer of the Challenger 2021 – Grey/White Edition Entries
Ferre's entry: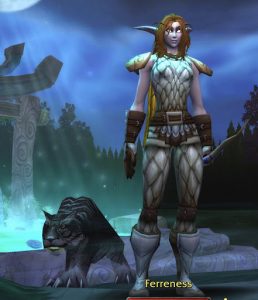 Ferreness is a level 13 unemployed Working Man Challenge wannabe.  (She never had a chance to join the challenger list).  She doesn't have a lot of money, so this is a bit of a bargain outfit- with all but the cloak and shoulders being vendor items. But it suits her… and her pet approves.

Azeroth Designer of the Challenger 2021 – Green Edition Entries
Nisey's entry: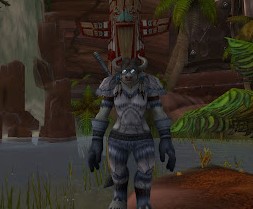 Soulsurvivor, who is level 28, is a living Blood Thirsty challenger.
Ferre's entry: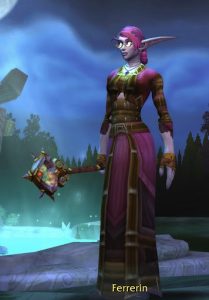 This is Ferrerin, a Green Man Mage. She wore a green colored outfit last year, but wanted a new look and loves the detail on this pink robe. (Yes, of course, she had her hair recolored to coordinate with it!)  She also loves the pretty staff and best of all, the spectacles!
Azeroth Emerging Challenger 2021 Entries
Ferre's entry: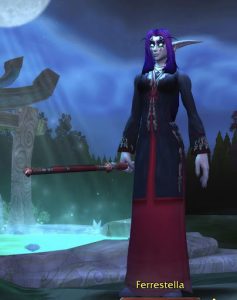 This is Ferrestella.  She was my first Iron Man EVER, until an unfortunate encounter with some naga ice tombs in Zangarmarsh at level 61.  She moved servers back in the day when there were limited slots per server (after dying).  But not a day or so before meeting those naga, she found this very rare robe in Moonglade and it has been her choice ever since.  She tends not to go for a lot of adornment with it. Just lets the robe speak for itself.
News
– The Harvest Festival begins on Sept.17th
– Congratulations to our contest winners Ferre and Nisey!
Contact Info
You can contact the show by email – podcast@wowchallenges.com
We're on Facebook.com/WoWChallenges
Twitter: @WoWChallenges
Discord server: discord.WoWChallenges.com
Check out the show on YouTube.com/WoWChallenges1
And remember to come catch us LIVE at Twitch.tv/WoWChallenges
Leeta
Twitter: @Leetawow
KhrysW
Discord: KhrysW#4903
Twitter: @ItsKhrysW