Congratulations to Soulsnuffer, our 5th BfA Champion on the Blood Thirsty Challenge! This is Nisey's 4th Max level Blood Thirsty. The other three are a Demon Hunter (Soldmysoul), a Paladin (Soulshield) and a Dwarf Warlock (Soulstoned). She joined the list back in September of 2017, just about two months shy of being three years old real world time. The /played time on this one is 16 days, 5 hours, 16 minutes, and 20 seconds.
Nisey's leveling strategy – "I started out grinding in New Tinkertown, as Soulsnuffer was a gnome. It's just less trouble to stay where I start out at in the beginning. I would hit up the rare Leper Gnome Warlock and the rare wolf just to try to speed things up a little bit. The rare rabbit… well he's not really worth killing if you find him up. He can be a bit of a pain, and his xp is terrible compared to the other two since he's really there for non-gnome hunters to tame once they get the ability to tame mechanicals. From level 5 to 10, I'll do loops around Dun Morogh looking for rares, but killing just about anything to keep my kill numbers up. At level 10 (sometimes 9) I'll head to Loch Modan. I go there to kill rares and the mobs in between them, and possibly see if I can find a treasure chest or two. Around 20, I'll head to Wetlands and kill gnolls near Swiftgear Station(I think it's called, you know the big windmill that looks out of place there). At 25, I head to Arathi Highlands and do loops around the zone there looking for rares, but I will kill the mobs on the way between them.
Level 30, I go to The Hinterlands and will kill owlbeasts near Stormfeather Outpost. These mobs will drop money, silk, and small eggs. They are great for stocking up for Winter Vale AH time. At 40, I head to Feralas. I'll kill noxious whelps around the lake near Dreamer's Rest… Those whelps can drop a pet which I have been able to sell on AH for anywhere between 18k to 25k on the AH on my server. If it's too busy there I head to the other side of Dreamer's Rest and kill stags and owls as they might drop a sprite darter hatchling pet. At 48, I'll head to Blasted Lands and do loops around the swamp area near Surwich. At 58, I head to Zangarmarsh in Outlands and will try to kill wasps for the caged firefly pet, and the ogres nearby for cloth.
At 60ish I head to Dragonblight and kill the villagers around Lake Indu'le. They drop money, cloth and sometimes I can find a chest up in the village. At 70, it's off to Icecrown and I'll do laps killing mobs at the base of the Tournament Grounds in Sindragosa's Fall. Might find a chest once in awhile, and sometimes a rare pats through there, though he is a bit nasty.
At 80, I head to Jade Forest and will do loops, kill mobs around the lake behind Dawn's Blossom. I try not to go in too big of a loop there though, as I've found a rare troll warbringer patrolling too close for my comfort and man those guys will destroy me. At 83 I head to Uldum and will do loops around Lost City of the Tol'vir. There is a rare in this loop but he's very much not worth it. If you are on a hunter then fine but he does a nasty fear so would not recommend. There are also several spots on that loop where a chest could spawn.
At 90, I headed off to WoD 'til 98. I have a very specific loop I've managed to work out in Shadowmoon Valley (Alliance only). Shadowmoon Valley in WoD is tricky… A lot of the packs of mobs that are neutral will all come for you if you tag only one of them, so takes a bit of scouting to find your footing. At 98, its off to Azsuna in Legion and I will kill mobs in a specific spot in the Ley Ruins, as the respawn time is pretty quick, and I've gotten a few purple drops off the withered.
At 110, it's off to Boralus and Tiragarde Sound. I have a loop on the edge of Foxhollow Woods, that while being short is mostly filled with yellow neutral mobs. It's a loop I've gotten used to for the alliance side, and I know what to expect from it so its what I tend to stick with.
Nisey had a few close calls: Overall it wasn't too bad of a run with this one. However, I did have a bit of a scare near the very end. I think I had about two bars to go in level 119 to 120, and I hit Shadow Word: Pain as it is an instant cast dot. However it sat there lit up, and the mob was charging me, and I did start to panic as I thought I was about to dc and it was all over… So, I hit Penance and then the dot cast and Penance went off. Tiragarde Sound has had some nasty lag on the server side of things at times, and it happens with no warning.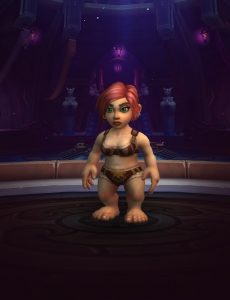 Nisey's best advice for the BT Challenge – Scout things out, put your food/drinks on your spell bar, along with your mounts/hearth stones. Basically, it all comes down to a few key things. Pay attention to what you are doing/where you are going. Be as prepared as you can to deal with things when they go sideways, like knowing your panic buttons. Know your limits. This is a long journey of grinding. It's okay to take breaks. Don't get discouraged if your character dies. It happens to all of us… And play a class you enjoy when starting out, coz it's a long road, and even longer if you are not enjoying the class you are on.
What's next for Nisey? "Normally I'd just get plugging along with my other Blood Thirsty Challengers, however with Shadowlands approaching, I don't think I can get another Blood to max before the level squish comes in, with the speed at which I level. So, I will be changing gears a bit, and switching my focus to my two Pacifist characters. I have one sitting at Lvl 102 (Gentlesoul) and one sitting at 50 (Downinfront) that I'll be working on… As well as puttering along on my Iron man Grumpysoul".
Best of luck on your other challengers Nisey, and once again congratulations on becoming our 5th Battle for Azeroth Blood Thirsty Challenge Champion with Soulsnuffer!