Congratulations to Xayaraylea on becoming our 5th Dragonflight Iron Man Challenge champion! Xayaraylea's Iron Man journey took 559 days, 2 hours, and 21 minutes. This character has previously reached champion status during Shadowlands and Xaya has estimated Xayaraylea's Dragonflight journey to take approximately 28 hours.
Xaya being one of our challenge veterans has had many champions over the various expansions. Xayaraylea is his 1st Iron champion and his 3rd overall for Dragonflight. The other 2 were Pacifist champions.
Xaya chose to play the Iron Man Challenge this time because he was working on his list of Shadowlands champions, trying to see if he could make them Dragonflight champions.
Xayaraylea was created as a Night Elf Outlaw Rogue. "In SL, I was able to get all classes to 60, this was my Rogue. I choose Outlaw because it is the spec of my main, so I know very well what everything does."
Xaya chose the following leveling strategy for Xayaraylea: "I mostly did paci safe quests, plus chest runs in BfA and some world quests in SL giving bonus experience. Dragon racing quests alone gave me at least 2 levels (normal, advanced, and reversed). I also took advantage of the elders."
Did Xaya have any close calls while leveling Xayaraylea? "Having lost already 4 Iron Man, in Dragon Isles. I was very careful on this toon and didn't get any in Dragon Isles"
Xaya has the following advice for others trying out the Iron Man Challenge: "Do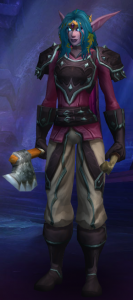 the campaign on a regular toon on your account before getting to Dragon Isles. That way all zones will be available for quests and world quests."
What's next for Xaya? Will he be taking a break or moving on to another challenger? "I plan to eventually have every class as a DF champion, and also have at least 1 champion in every challenge."
Good luck with your other challengers Xaya and congratulations on Xayaraylea becoming our 5th Dragonflight Iron Man champion!