Congratulations to Xayavandra on becoming our 36th Shadowlands Iron Man Challenge champion! Xayavandra's Iron Man journey took 157 days and 2 hours with a /played time of 1 day, 20 hours, and 36 minutes.
This is Xaya's 10th Iron Man champion and his 12th Shadowlands max-level challenger.
Xaya chose to play the Iron Man Challenge this time out because he was trying to get one of every class to max level as an Iron. He made Xayavandra a Draenei Shaman because it was the last non-hero class he hadn't gotten to max yet as an Iron. 
Xaya used the following strategy to level Xayavandra: "I used Chromie Time to 50, but since Iron Shaman have a hard time killing mobs at 30 I started to avoid combat as much as possible. Did WoD chest with flight at 30 as usual, but this time, instead of mostly doing exploration above 40, I did most of the paci safe quests in just about every zones. Started BfA chests at 50 to get to 51, then headed to Shadowlands and mostly did world quests. Brewfest and Hallow's End helped a lot."
There were no specific close calls that Xaya could remember having while leveling Xayavandra however, " I had to call the earth elemental and run away a few times. No Shadowmeld means you have to be even more careful."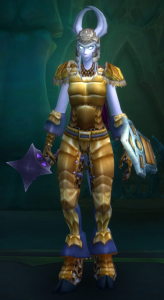 Xaya has the following advice for others working on the Iron Man Challenge: "Scouting is the key. Especially at high levels, many mobs just cannot be killed. Find out what you can kill and what will kill you."
What's next for Xaya? Will he be taking a break now or will he be starting another challenger leveling project? "I started a Green Man and a Working Man, both are standing at 59.9 until the website is fixed and we can add challengers again. I may give a try at a paci who doesn't have Shadowmeld nor any stealth, like a pally or Shaman."
The website trackers for solo challenges are now up and running, so best of luck with your other challengers, and congrats on Xayavandra becoming our 36th Iron Man champion!