This week we are joined by KhrysW to celebrate the 7th anniversary of the podcast!
WoW Challenges 2022 Fashion Showcase
We would like to thank everyone who sent in their challenger's fashion choices. It was lovely to see the different selections your toons made!
Blood Thirsty Soulsurvivor (Nisey)
My Blood Thirsty Soulsurvior didn't know what to do with the time she suddenly found on her hands with her journey currently done. So she decided to get back to her druid roots by clothing herself in green to blend in with the forest while she takes some time to rest and explore.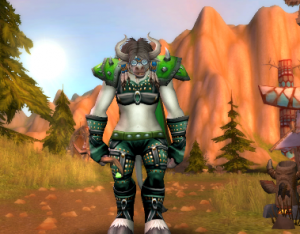 Working Man Tintacks (MrsRockGuru)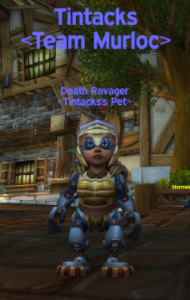 Pacifist Peacefull (Tiber)
Happy 7th Anniversary WoW Challenges!
Challenger fashion shows mostly confuse me because 99% of my challenge toons are equipped with the gear-you-buy-in-the-capital set.  I'm sending two screenshots of my pacifist Peacefull (who was sadly disqualified for 15 kills for putting out fires in Northrend).  He is wearing the leather Snowhide set he bought from the Taunka, which I think looks pretty good, for white gear.  As far as I know, there is no Alliance equivalent to this set.  If anyone knows of one, I'd be very curious about where it can be found.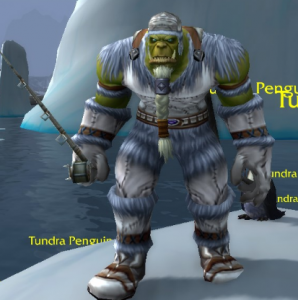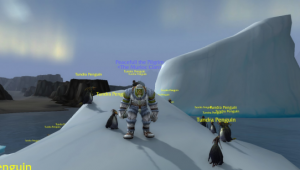 Working Man Ferrewynter (Ferre)
When Ferrewynter first showed up on the challenges list, Leeta mentioned that she sounded like she was destined to join the Night Fae.  And she did!  She tried to get a selfie with the Winter Queen herself, but somehow, Ferrewynther just felt very small next to her majesty, and no one would even see her outfit!  (which is a cloth mage's robe, but she loved the color!) She's carrying a staff topped with e winter white crystal. Since she's a Working toon, she posed with the tool of her favorite trade – she free-lances as a bard!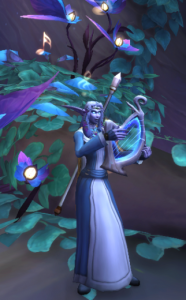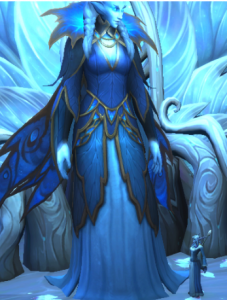 Iron Man Ferrestella (Ferre)
Ferrestella was my very first Iron man challenger.  Sadly, she died in Zangarmarsh at level 61 or so. She loved Moonglade and on one of her visits there, she found the very rare robe that she's wearing.  It's interesting – the lighting strongly affects the appearance/color of it.
Under the Moonglade lighting conditions, it appears much darker, almost shades of purple, whereas in Dalalan, it's definitely red and black.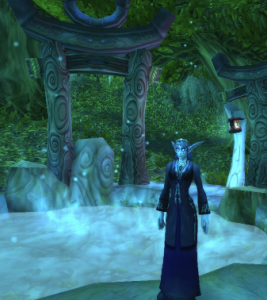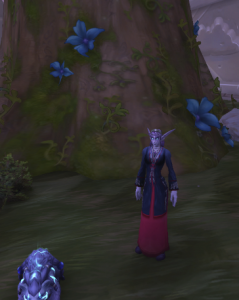 News
– Congratulations to Ironbrue for reaching max level with Progue and becoming our 24th Shadowlands Pacifist Challenge champion!
– The Trial of Style is coming up on Aug.31st. This is NOT ALLOWED for challengers, please leave this to your normal characters.
– To celebrate our 7th anniversary of the podcast we are having an Iron Man leveling contest! This is a solo, Hunter only leveling contest. Allowed races are Draenei, Dwarf, Gnome, Human, Night Elf, Blood Elf, Ore, Tauren, Troll, and Undead. All specs are allowed for this one. The Make Your Mark Iron Man contest will run from Aug. 27th – 7 pm eastern Sept.10th. This contest is open to those in the EU & US game regions. You must enter between the levels of 10 – 15. If you register after level 15 you will NOT be added to the contest. You will also need to check the opt-in box and supply your email so we can contact you should you win. All email addresses will be purged after the contest concludes. You will also need to check a box saying you understand this. 1st place will receive 2 months of game time. 2nd – 10th place will be entered into a drawing for 2 WoW in-game pets (1 pet per drawing winner, 2 winners will be chosen randomly) from the Blizzard store. Should there be a tie, the 1st character to reach a milestone level shall be used as the tie-breaker. You can enter the contest here.
– Send in your in-game screenshots if you'd like them to appear in the background during the show. Please use size 1920 x 1080 when sending them in.
– Spreadshirt promo in our gear shop Aug. 31st through Sept. 4th 15% off everything. 
Contact Info
You can contact the show by email – podcast@wowchallenges.com
We're on Facebook.com/WoWChallenges
Twitter: @WoWChallenges
Discord server: discord.WoWChallenges.com
Check out the show on YouTube.com/WoWChallenges1
And remember to come catch us LIVE at Twitch.tv/WoWChallenges
Leeta
Discord: Leeta#1726
Email: leetawow@gmail.com
Instagram: Leetawow
Podcast: podcast@wowchallenges.com
TikTok: @leetawow
Twitch: Leeta
Twitter: @Leetawow
Website: wowchallenges.com
YouTube: Kym Loves – I am vlogging
KhrysW
Discord: KhrysW#4903
Twitter: @ItsKhrysW